Over a third of all drownings recorded in Ireland between 1988 and 2012 were classified as suicides, according to a report from Water Safety Ireland.
36 per cent of fatalities in the period were classed as in 'intentional'. Of that figure, the vast majority were by suicide, while a small number (less than 1 per cent) involved foul play.
The actual figure for suicides may be far higher, as 19 per cent of drownings in the period remain 'undetermined'.
Accidental drownings made up by far the largest category, at 43 per cent of the total.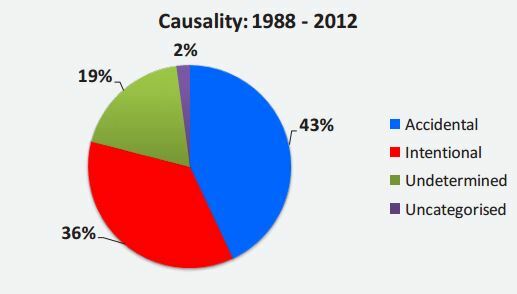 An overwhelming majority of victims were men — accounting for almost four-fifths (79 per cent) of the total. Data compiled over the 25 year period gives a profile of a man aged 42 as the average drowning victim.
The data shows that, on average, 140 people die from drowning every year in Ireland. In 79 per cent of cases, the victim died in a body of water near their home where there was "a potential familiarity between the victim and the drowning venue".
Irish people were the victim in 97 per cent of cases, followed by those from other European countries.
Regarding the high proportion of suicide deaths, Water Safety Ireland Deputy CEO Roger Sweeney said it was likely the case that the high level of 'undetermined' causes of drowning were masking the correct figures on suicides by drowning.
He said he was concerned at the high level of 'undetermined' causes or 'open verdicts' made by Coroners.
WSI, which is the country's statutory body for promoting water safety, has developed a new Suicide and Self Harm Intervention Policy to outline how its members should respond to someone who is contemplating taking their own life.
"Our primary school water safety programme will definitely help in the longer term too,"
Sweeney told TheJournal.ie.
"We often receive reports of people entering the water but reacting as if to change their mind about suicide, perhaps because of the cold shock of open water.
"Our primary school pupil training programme will ensure that as these children get older, that they will have the skills necessary to survive in water and save themselves.
Twelve people drowned in single two week period this year during the summer heatwave. WSI-trained lifeguards plucked people from 559 situations where they were in danger of drowning in July — a rise of more than 250 compared to the entire bathing season last year.